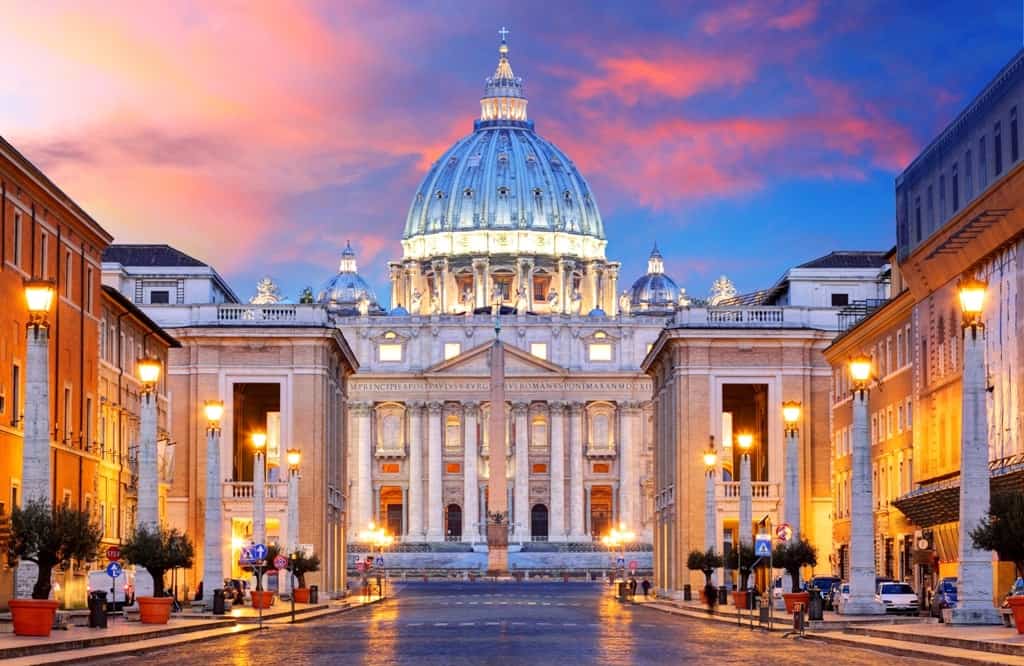 Vatican
Staying at the original London Ibis Luton is only for sleeping. We woke up at 4 in the morning, and had to quickly check-out and walk to Luton Airport. It turns out there are a lot of models like us, so there are some other couples who walk early in the morning to check-in planes. The air was very cold, while dragging our suitcase for about 10 minutes we just arrived inside the airport complex. Although this airport is categorized as a small airport in Europe, the facilities are fairly complete. The airport is used by RyanAir as a flight hub from London to other cities throughout Europe.
DSC04820The check-in process took place quickly, 2 hours before the departure time (7.10 GMT), but we were told by officers to immediately go to the departure gate. We rushed to breakfast and rushed to the gate. It turns out that this airport 'just seems small', is actually very long to reach the gate. Up in the middle, there is a spacious hall for security check. Wow, the queue is very long. Maybe 30 minutes my wife and I can turn to check. All jackets, belts, and even shoes must be removed and allowed to pass through the security gate. And if the door rings, you will be checked longer. After this we started running because time was very tight. Imagine running (maybe for 10 minutes) just arrived at the gate, and indeed boarding.
Ryan Air is a low-cost carrier, so there is no free food and drink. Flight for 2 hours 40 minutes from Luton to Rome Ciampino Airport. In the plane Terravision bus tickets are sold to get to the Termini city station, but my advice should not be bought. Once the plane landed smoothly, I heard the passengers on the applause so I joined in applause too (respecting people's culture :)) Arrived in Rome at 10:40 local time (GMT +1). Finish our vacation to London, and now start the vacation part of Rome.
Arrived in Rome
I bought DK Eyewitness: Rome in a bookstore in Jakarta. This full-color book is very complete explaining the city of Rome and its tourist sites.
Passing immigration is easy, there is no question about our Schengen visa. Ciampino is a small airport, so once through immigration you can immediately pick up a suitcase. Out of the arrival hall, still in the airport building there is a counter that sells bus and metro tickets. The clerk with friendly and clear English explained the various types of tickets available. I bought a BTI ticket (biglietto turistico integrato) for € 11.00 which can be used to take unlimited buses and metro for 3 days only in Rome, and buy a € 1 bus ticket from the airport to the nearest metro station. This card is the size of a business card, as thin as paper, and behind it is a magnetic strip.
Exit the building (still in the airport fence), you will immediately see a small bus stop. And there is a COTRAL bus waiting. This bus serves the Roma Ciampino route to Anagnina Metro Station. Use the card purchased for € 1. The trip takes about 30 minutes and arrives at Anagnina Terminal. Look for the board with the letters
Roma Metro
which means Metro line A, go down to wait for the train.
Metro in the city of Rome there are only 2 lines, shaped like X where the middle meeting is Stazione Termini. The average metro station here is so dirty, dark, although quite clean. Anagnina is the last station for line A, so just wait for the train to come and get into it. The time from Anagnina to Termini is around 30 minutes.
Out of Termini, we headed to the Chicago Hotel which had been booked previously via Venere. It's not difficult to find this hotel, it's just that we are not familiar with the road block system (grid system). Chicago hotel is located behind the main building, the signboard can be seen clearly from afar.
We were received by a friendly immigrant receptionist from Africa (a typical Italian welcome). Whereas the room is located on the 2nd floor (up stairs). The room was okay with a quite luxurious bathroom. After putting our suitcases straight away again. Lunch at Termini Station. Finally eat also authentic Italian food: panini, it's delicious!
Continued